Client: C.N.T.E.E.  Transelectrica S.A.
Project co-Financed by EBRD
Contractor: Siemens Austria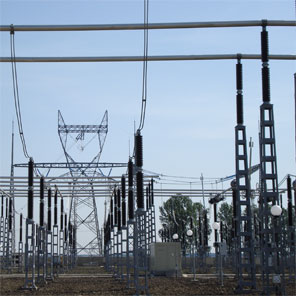 Nădab Project was designed to build one new interconnection substation with the Hungarian transmission grid. The substation provides also the support for a new 400 kV loop from Oradea Sud to Arad.
The initial stage consists in a triangle configuration with one interconnection OHL to Bekescsaba. In the final stage the configuration will be a quadrilateral with two interconnection OHLs to Bekescsaba.
Scope of works
A new 400 kV substation with 3 equipped bays as triangle configuration
Control & Protection System available for 4 nodes but commissioned for 3 nodes
AGC RTU connection
Telecom system
Metering system
AC/DC supply systems.
Our role
Local Project Management

Support during bidding period
Assistance in establishment of the project organization
Project planning
Coordination of the local suppliers
Coordination of the local project designing
Revision and coordination of the technical specification for electrical equipment
Supervision and coordination of construction and erection works
Claim management.

Commissioning Management.