Since the beginning of our Applied Research and Development activities, ECRO was tightening the scientific links with the academic community. Also its specialists were constantly publishing scientific articles and held presentations regarding the R&D results in national and international energy related papers and conferences.
Partnerships with Universities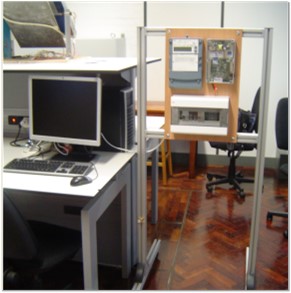 We had commissioned a VPP demonstrator at Imperial College London during the FP6 FENIX project.
Another VPP demonstrator has been commissioned in 2013 by our team for the University Politehnica of Bucharest – Faculty of Power Engineering.
In November 2012, we started a two year research cooperation with the Department of Power Systems.
Main targets:
Increase the cohesion between the university and our R&D team activity
Development of the "Smart Grid Laboratory" of the Power Systems Department
Involvement in co-teaching the students during the laboratory courses and in co-advising B.Sc. and M.Sc. final theses
Development of Smart Grid technologies together with the university professors.
Papers and Conferences
ECRO, by its consultants, is active with publishing and presenting its R&D ideas to the scientific community.
A  list of selected publications is presented below:
New Smart Meter Design in Nobel Grid
IEEE Smart Grid , April 2015.
Energy Services Potential by Using Stationary Hybrid Energy Storage,
COST MP1004, WG's1-4 Meeting in Israel 7-10.12.2014, Tel Aviv, Israel.
Minute based metrological energy measurements – the base for calculating energies for ancillary services and other power services. Solution study.
IRE, Round table on Energy Measurement Code, 27.11.2014, Bucharest.
The pyramid of energy services,
IRE, Round table on Energy Measurement Code, 27.11.2014, Bucharest.
View on metrological aspects regarding the new Energy Measurement Code,
IRE, Round table on Energy Measurement Code, 27.11.2014, Bucharest.
Extension of EMS and DMS-SCADA Facilities by Extended Meter Reading (online meter reading),
IEEE Power & Energy Society Conference – The 9th Mediterranean Conference on Power Generation,
"Transmission Distribution and Energy Conversion – MedPower 2014", 2 – 5 November 2014, Athens, Greece.
Smart Meters in a global intelligent environment: A future architecture,
Symposium "Smart Metering", 13-16.11.2013, Sibiu.
ELIZE  – Remote villages electrification. A holistic, Smart Grid oriented approach,
INFO DAY: "Energy, ICT and R&D", CRE+CNEE2013, Sinaia, 23.10.2013.
Transforming Big Data into Collective Awareness,
in Computer (IEEE Computer Society), vol. 46, no. 6, pp. 40-45, June 2013, two:10.1109/MC.2013.153.
A short glimpse on two Smart Grid related topics – Virtual Power Plants and Smart Meters,
Regional Energy Market – a step towards,
Romanian Energy Center, Brussels Day, 15.05.2013.
Concepts of Democracy in Power Systems – a Vision within the Smart Grid Paradigm,
Romanian Energy Center – Info Days Energy, R&D, ICT, 27-28.09.2012, Romanian Academy.
Smart Meters – A critical review,
Smart Grid Conference, 7-9.11.2012, Sibiu, Romania.
Probabilistic Energy Services – A study of the concept,
Deregulated Electricity Market Issues in South-Eastern Europe – DEMSEE 2012  Conference – 21 September 2012, Bucharest.
Integration of Distributed Energy Resources in the National Power System, using Virtual Power Plant concept, as part of emerging Smart Grid technologies, Case Study: Sibiu regional  network,
accepted for  the  conference  GCC  CIGRE  POWER  2010,  Doha, October 2010, Qatar.
Co-authoring the book Engineering the Future,
chapter Energy and information, 2010, SCIYO Publishing House.
Virtual Power Plants – solution for efficient integration of distributed energy resources,
Energetica Revue, 2009.
Sub-transmission IPP automation and control for EMS functionality support,
RO-CIGRE, 2007, June 28-29, Sibiu.
Metering Billing and Settlement of Ancillary Services,
Paper at Metering Europe 2004 – Berlin, Germany, 28-30 September 2004.